Leading consistently with your best self is something that most leaders strive for–but few ever attain.
Do you want to become the leader you always knew you could be?
Join thousands of entrepreneurs, team leaders, and professional developers who have used Ken's books to find a true solution to the apathy, frustration, and stagnation that plague most businesses. Rise above the crowd by shining a light on your unique abilities as a leader. Learn to apply your skills in real-time situations, with these books:
THE QUEST FOR PURPOSE: A Self-Discovery Process to Find It and Live It!
Do you feel fulfilled in your life? Or are you one of millions just going through the motions? Unlock your full potential by creating a usable roadmap to a life of meaning, excitement, and success.
WHY AREN'T YOU MORE LIKE ME?: Discover the Secrets to Understanding Yourself and Others
Build on your strengths. Take your leadership intelligence to the next level and learn to thrive in your relationships at work and at home by understanding your personal style.
DELIBERATE LEADERSHIP: Creating Success Through Personal Style
In order to lead others to success, you need to know yourself. Learn the 3 skills that every true leader needs to succeed, and how to inspire and influence others to thrive in their pursuits!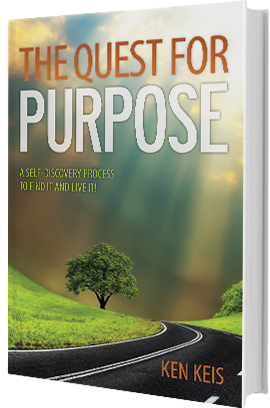 The Quest for Purpose

A Self-Discovery Process to Find It and Live It! Add to Cart
If nothing changed in your life in the next 5 years, would that be okay?
Getting ahead in today's world requires more than just dedication. In order to not only succeed but enjoy that success, most people agree that you must be passionate about what you do. Except that most people aren't. According to a Gallup study, nearly 90% of employees are dissatisfied with their work, from indifference to active loathing. How do you feel about your day-to-day life? Does it have meaning? Does it bring you fulfilment? If your answer is no, or you're not sure, this book is for you. In The Quest for Purpose: A Self-Discovery Process to Find It and Live It, Ken helps you figure out your core passions and values and build your life around them, step by step. Take your personal and professional development to the next level when you play to your strengths. Gain clarity in how to make decisions that lead you towards your ideal life, both at work and at home. Are you ready to make an impact on the world? Or will you stay mired in a life where you are living out someone else's dreams? Don't wait for life to pass you by. Join Ken and thousands of others on this journey to self-discovery and personal excellence today.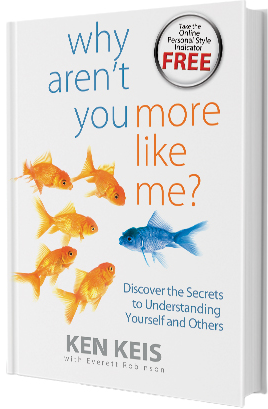 Why Aren't You More Like Me?

Discover the Secrets to Understanding Yourself and Others Add to Cart
The journey towards understanding others starts at our own back door.
If you're ready to leave drama behind and create authentic, fulfilling relationships with clients, staff, family and more, then Why Aren't You More Like Me is the book for you. Follow Ken as he unpacks how to maximize your strengths and empower others in theirs. Learn which parts of your personality you were born with, and how it relates to your relationships with others. This awareness brings incredible results that are tangible in all areas of your life. When you learn to understand and adapt to others' behaviour, you'll start to approach your interactions with confidence... and achieve mutual understanding, every time. At work, you begin to leverage individual differences to make your team stronger, instead of tearing it apart. This not only increases productivity and sales, but also creates an environment where people are happy to come to work in the morning. Without understanding what makes people tick, you can still potentially achieve success–but you will only ever be scraping the surface of your potential. Being stuck in a rut of misunderstandings and defensive triggers sucks. Instead, why don't you join us in discovering the secrets to understanding yourself and others?
The journey starts here.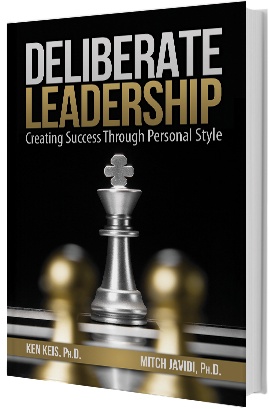 Deliberate Leadership

Creating Success Through Personal Style Add to Cart
Many individuals struggle their entire career, always looking for that "secret sauce" that will catapult them to the elusive next level. What if instead of an endless tug of war against your nature, you could use your unique strengths to become a confident and effective leader?
Ken and Dr. Mitch Javidi, PhD will lead you in this journey to self-discovery and empowerment in their book Deliberate Leadership: Creating Success Through Personal Style. If you want a system guaranteed to optimize your team's performance while creating enthusiastic and loyal employees, this book is for you.
You'll learn:
2 mistakes that cause leadership to fail, and how to avoid them
Techniques to thrive in leadership situations that would have paralyzed you in the past
Ways to master the art of developing the potential of those around you
When you grasp these simple tools and how to put them to use on a daily basis, you step closer to a life others only dream of–a life where you lead and success follows. What are you waiting for? Success is knocking at your door. Will you take the first step towards Deliberate Leadership?